Beautifully Disney
Beautifully Disney
Captivate your mind with Beautifully Disney, a new collection of cosmetics and beauty products exclusive to Disney Parks.
Beautifully Disney defines timeless beauty through collections of fairytale nostalgia, unlocking harmonious colors. Through the collections of this new and enchanting line, it is the goal to keep you romanced by the contrast of mysterious yet inviting colors.
The first of many collections from Beautifully Disney, Wickedly Beautiful, takes you into a world of good versus evil, where soft and deep lacquer crèmes shimmer with glitter, richly unite to create modern interpretations of Snow White, Cinderella, Ariel, Aurora, Evil Queen, Lady Tremaine, Ursula, and Maleficent.
Wickedly Beautiful not only adds an air of sophistication with its luxurious color palette but it allows you to define your own character by choosing to be a romantic princess or villainous vixen.
The collection includes princess and villain inspired lacquer crème nail polish and eye shadow. Also included in the collection are four Disney Villains and four Disney Princess inspired lip glosses that are sheer, shimmering and are highly wearable.
The two eye shadow palettes each contain four unique and complementing colors. You can create a classic smoky eye by using the Disney Villains palette or a sweet, romantic look with the Disney Princess palette. Feeling particularly creative? Use a little from both palettes to create your own special look. Colors complement each other and can be mixed, matched and layered for endless combinations.
Beautifully Disney is sure to bring out the sheer brilliance of your inner most beauty. The character inspired collection is the first of its kind for Disney Parks and has been developed to evoke the spirit, beauty, and fantasy of all things Disney.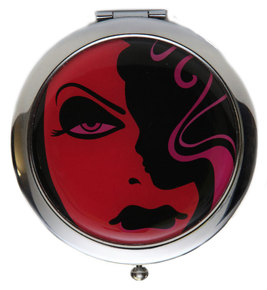 And remember to take advantage of the special Purchase with Purchase Offer, where you can purchase a special Beautifully Disney compact for only $10 with the purchase of $40 or more in Beautifully Disney cosmetics. Available for a limited time only. Please note that the Beautifully Disney Compact Purchase with Purchase offer is NOT available via Disney Parks Merchandise Guest Services.
Want to find out more? Then be sure to stop by the Disney Vault 28 in the Downtown Disney® District at Disneyland® Resort and Trend-D at the Downtown Disney® Marketplace at Walt Disney World® Resort!  If you're unable to make it to Disney Parks but would still like to experience the Wickedly Beautiful collection from Beautifully Disney, please contact Disney Parks Merchandise Guest Services at 1.877.560.6477 to order the enchanting new beauty collection.
Eye Shadow Kits – $27.95
Enchanted Kiss
Midnight Hour
Lip Gloss – $14.95
Loves First Kiss
Mysterious Mermaid
Stroke of Midnight
Enchanted Slumber
Dragon Diva
Envy of the Ball
Soul Survivor
Poisoned Apple
Nail Polish – $8.95
Diva of the Deep
Looking for my Prince
Enchanted Kiss
Ocean Mist
Off to the Ball
Just One Bite
Midnight Hour
Mistress of Evil
Mini Nail Polish Sets – $19.95
Princess Mini Nail Polish set
Villain Mini Nail Polish set
Merchandise subject to availability. Product offering subject to change without notice.